Sky View High School
Class Of 1978
In Memory
Bart Blauer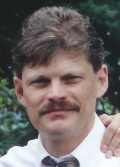 Bart Hawkes Blauer
River Heights - Bart Blauer, beloved son of the late Wallace Dean and Patricia Hawkes Blauer passed away June 14, 2006 of an apparent aneurism.
Bart graduated from Sky View High School in 1978. He served an honorable mission for the L.D.S. church in Dallas Texas from 1979-81. Bart was a natural artist and had a great love for music, fishing, hunting and reminiscing. He will be remembered for his quick whit and keen sense of humor plus his unyielding love for his children and family. To Bart there was nothing more important than being with his children. Our thoughtful, kind son, father and brother will be sorely missed.
He is survived by daughters Brittney and Rebecca and sons Taylor, Brandon and Nicholas; mother and siblings, Kim, Kathrine White (Richard), Nena Peterson (Dwight), Jill Warnick (Robert), Kelley (Stacey), Kris (Julie), David and Marc (Mandy), and thirty nieces and nephews.
He was preceded in death by his father.
Farewell services will be held at 12 PM in the River Heights Stake Center, 800 South 600 East, River Heights, Utah on Monday, June 19, 2006. Friends and family may call one hour prior to the farewell. Arrangements are under the direction of Allen-Hall Mortuary. Condolences may be sent to the family at Allen Mortuaries.